Gluten-free food preparation
The best
for your guests
.
Whether you're talking about flours, doughs, breads, pizzas and pasta products, packaged foods, ready-to-eat meals, or desserts: Restaurant guests troubled by coeliac disease and gluten-allergies will love the gluten-free products made by Schär Foodservice!
Schär Foodservice


The biggest range of gluten-free products
for the food preparation sector

.

For professional catering, it is increasingly important to offer a menu that meets everyone's special needs. A leader in gluten-free food, Dr. Schär, with its Schär Foodservice division, offers a complete assortment of products for all areas of gastronomy-such as Hotels, Restaurants, Pizzerias, Bars and Collective- designed for customers with celiac disease or gluten sensitivity who wish to rediscover the pleasure of eating out.
One in 10
people is
affected by
glutensensitivity.
1:100
One in 100
people is affected by
coeliac disease.
Only 12%
of restaurants
offer gluten-free
food.
Ø 1.5h
time spent
by gluten intolerant people
searching for
suitable restaurants.
Why choose Schär Foodservice?
To enable you, as a food preparation professional, to satisfy the special wishes and nutritional needs of guests with coeliac disease, Schär Foodservice offers a complete range of gluten-free ingredients and products for external supply.
Ingredients & taste
100% gluten-free. No exceptions. Additives? We don't use them!
Foodschärvice
You can become a gluten-free expert
for your guests!
Communication materials
Discover our support materials that will help you raise the profile of your gluten-free dishes.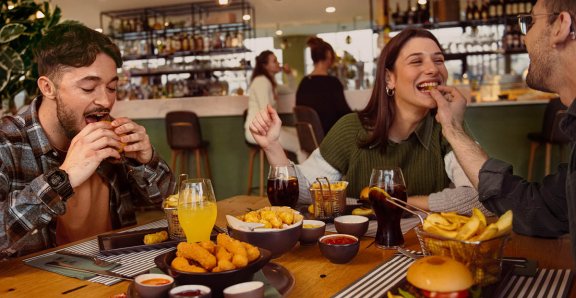 Foodschärvice Academy
Become gluten-free experts for your guests! Secure this growing target group now and stand out from the competition.
News & Events
always up to date
Ongoing updates for all gastro professionals. Schär Foodservice informs you here about news, seminars, events and trade fairs on the subject of coeliac condition.
Successful partnerships
When you partner with Schär, it's no longer a problem to provide your customers with their favorite dishes – reliably and risk-free: Our recipes are developed especially for your company, so that you can offer sufferers of coeliac disease the unique and delicious flavors of their favorite dishes.
Our commitment to safety and reliability is one of the most-important aspects of this partnership: You can offer gluten-free products without risk – packaged in innovative and oven-safe packaging without the risk of contamination.
McDonald's and Schär

Gluten-free burgers!
The "x Schär" gluten-free burger is a soft, gluten-free bun with two slices of cheese and delicious beef and is available in all McDonald's restaurants in Italy.