Gluten-Info
Here you can learn

everything you need to know
about gluten-free in the kitchen

.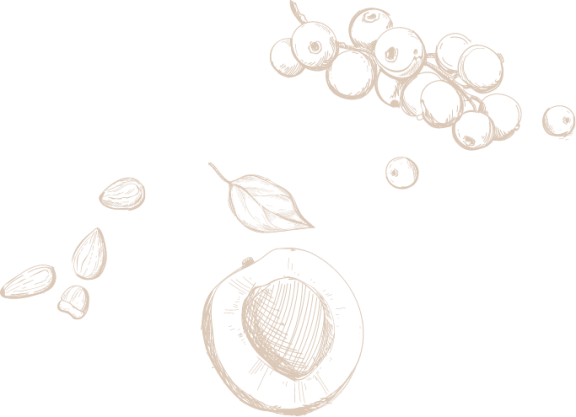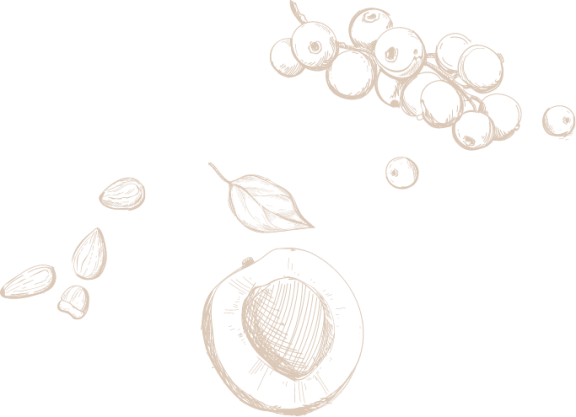 Re-equipping modern professional food preparation operations to handle gluten-free cuisine requires lots of planning and also an additional selection of alternative food products which are suitable for your guests suffering from gluten-intolerance or sensitivity. Discover our gluten-free products enabling you to offer a wide range of suitable replacement dishes.
Almost 10% of the population state that they suffer from gluten-sensitivity. On average, up to 1% of all people suffer from coeliac disease. It is thus obvious that this growing group of affected people should be offered suitable food dishes – enabling you to secure the other guests accompanying them as customers, too.
Below please find some important facts about gluten. This will provide you with the necessary background information about coeliac disease (an auto-immune condition) and sensitivity to wheat products, thus enabling you to handle your guests' special requirements in a discreet and understanding manner.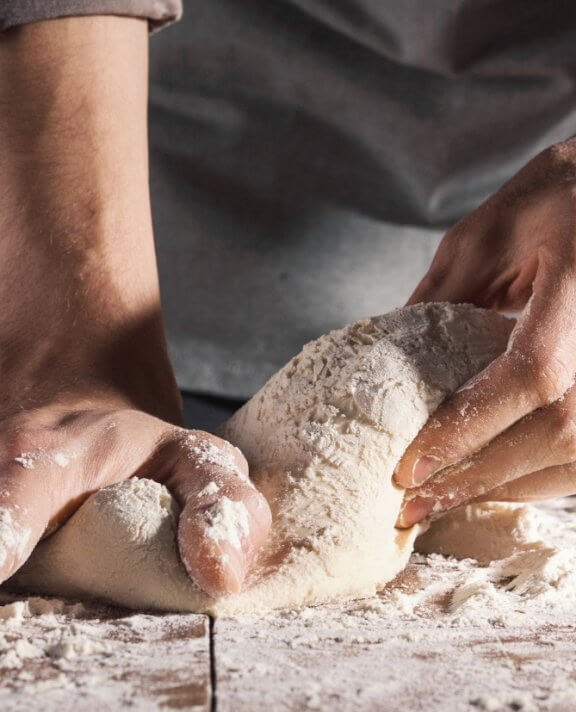 Gluten as a cause
for stomach aches
Eating foods containing gluten can cause unpleasant symptoms and even physical discomfort and severe reactions in certain people. Bloating, diarrhea, and vomiting are just some of the common digestive problems that people suffering from coeliac disease or wheat-sensitivity can manifest. Sometimes even small portions of foods containing gluten can suffice to provoke serious auto-immune reactions in people with a corresponding genetic predisposition.
Unless affected persons change their nutritional habits, this can result in chronic inflammations of the G-I tract which, in turn, impairs the absorption of nutrients.
Safe preparation of gluten free dishes
Only a few precautionary measures are required when preparing gluten free meals.
Caterers need to adjust their gluten free safe self-regulation plan in four different areas according to the HACCP principles: Selection of basic ingredients, Storage of products, Preparation of dishes, Table service.
The following principles must be observed:
Only those authorised food products, which are gluten free by nature or designated as "gluten free" on the label, or products from the Dr. Schär Foodservice range, may be used.
Surfaces on which gluten free products are processed should be kept free of all residual food products containing gluten. It is recommended that a separate surface is reserved for gluten free safe preparation.
Employees responsible for preparing gluten free food must wear completely clean work clothes, which are only used for such purpose or are disposed of after being worn once.
Employees must wash their hands thoroughly every time after touching food containing gluten.
Care should be taken to ensure that machines, cooking utensils, containers and small devices do not come into contact with foods containing gluten.
Gluten-free safe dishes must be prepared using separate cooking utensils (e.g. never use the same pan).
Never use the same oil for frying foods containing gluten and gluten free foods.
Foods containing gluten and gluten free foods should be cooked at different times in the oven using upper and lower heat. Gluten free meals should be pushed into the oven on trays with high rims. As an alternative, we recommend an oven that is solely used for gluten free dishes.
Rules for service personnel
To be gluten free safe, service personnel must thoroughly wash their hands every time after coming into contact with foods containing gluten .
Precautionary measures for bread and breadcrumbs: Service employees should ensure that the table is free of breadcrumbs and that bread is not left in the vicinity of guests with coeliac disease.
Storage
Dough can be prepared by hand in specially designated bowls or with a planetary food mixer with hook attachment. The food mixer should preferably be one that is solely designated for food preparation, in order to ensure that the food is safe for coeliacs. If this is not possible, it is essential that the machine is thoroughly cleaned with alcohol-based cleaning products.
The use of equipment, bowls or utensils that are either specifically designated for foods or thoroughly cleaned between use is recommended. For all types of dough made from flour, planetary kneading must be gentler in comparison to that used for conventional flours and last a few minutes longer in relation to traditional recipes.
Gluten-free flour is much more hygroscopic and therefore absorbs more water than conventional flour. It is therefore advisable to retain a medium consistency when kneading and ensure that the texture is not too tough.
Preparation methods...
GGluten free doughs can be processed by hand in specifically defined dishes or with a "Planet" kneading machine with hooks. For reasons of gluten free safe hygiene, the kneading machine should be preferably only used for processing gluten free products.
As an alternative, thorough cleaning of the machine with alcohol-based cleaning products is imperative. We recommend the use of devices, dishes and cooking aids solely designated for the preparation of gluten free safe dishes or those which are carefully cleaned every time. For all doughs made of gluten free flour, mechanical kneading should ensue at a lower setting than for doughs made of conventional flours and should last a few minutes longer than in traditional recipes.
Furthermore, it should be noted that gluten free flours are more absorbent and thus absorb a lot more water than conventional flours. We thus recommend that you ensure a semi-firm consistency during processing, as the dough should not become too hard.
... and preservation
How to deal safely and carefully with gluten free dough:
Freezing: Wrap gluten free pieces of dough in cling film, freeze via shock frost and keep in the freezer in closed airtight containers. Allow the dough to thaw in the fridge at 0 to +4 °C before use. Then further process the thawed dough with clean hands, a rolling pin or a noodle machine.
Cooling: Gluten free safe products should never be stored in the fridge (at 0 to +4 °C) for any longer that 18 hours prior to use. Pieces of dough that are not to be further processed for another 18 hours are often too soft. Should that be the case, you can simply use the gluten free "Food Service Mix" flour during preparation for a firmer consistency .
Thawing: A method that is just as practical as it is clean is thawing in the microwave via the thawing programme. However, the dough may not become too hot in the microwave and thus bake. The best method is to switch on the microwave for 30 to 40 seconds and keep your eye on the thawing process. However, the best way to thaw frozen pieces of dough is of course the natural thawing method at positive temperatures in the fridge. Not recommended is thawing at room temperature, as that can impair the product quality.
Cooking methods
Oven with upper and lower heat or hot air:
Circulating air in an oven allows gluten free products to rise better, but may only be used if the relevant oven is solely used for gluten free safe baking, to avoid dangers of contamination. The use of separate ovens or those without circulating air is required for the cooking of gluten free safe bakery products in healthcare facilities as well. Self-cleaning programmes may also be used, although care should be taken to ensure that the gluten free products are first baked and those containing gluten not until afterwards. This procedure should be repeated every time, especially in school or hospital kitchens.
Steam promotes the rising of gluten free bakery products and prevents too much surface dehydration in the first minutes of the baking process. Baking should then be continued via "dry" heat" meaning "steam-free" heat".
The gluten free safe baking with moisture is perfect for all gluten free breads and similar bakery products. People with ovens without a steam cooking function can use a small container (pan) with water, which is placed in the oven. The air circulation function can always be used in such case, as both the moisture and the air help the dough to increase in volume.
Dry heat should only be used for moist doughs, i.e. those with a higher liquid percentage, such as gluten free sponge or flans.
Frying
The preparation of gluten free foods by frying must ensue with separate oils or fats used solely for gluten free dishes. In view of the special difficulty of cleaning deep-fat fryers, it is advisable to fry gluten free products in separate deep-fat fryers or in the pan. The use of separate deep-fat fryers for gluten free foods is appropriate when such product types are frequently prepared.
Cooking in water
Tips for the correct preparation of gluten free safe noodle and rice dishes.
Gluten free foods must be cooked in water in a separate pan: Never use water in which noodles containing gluten have previously been cooked! It is always advisable to rinse cooking utensils thoroughly before use. Water in which noodles containing gluten have already been cooked may never be used to extend sauces, to add to risotto or to cook vegetables or rice for guests suffering from coeliac disease! In addition, one third more water should be used for cooking gluten free pasta products than for noodles containing gluten . To prevent the gluten free noodles sticking together, it is recommend that you add a few spoonful of oil to the cooking water.
This info video will provide you with a brief overview of the foodstuffs containing gluten and of the common maladies and symptoms suffered by people with coeliac disease and/or wheat-insensitivity. Additionally, we will provide you with helpful hints on gluten-free nutrition, delicious dishes, and products available from Schär.
Info material
Our information area will provide you with additional information about coeliac disease, gluten-sensitivity, and the specific challenges of a gluten-free diet in the restaurant business. We think that you will be impressed by the variety of products available from Schär Foodservice. You can also download all the files in compressed form!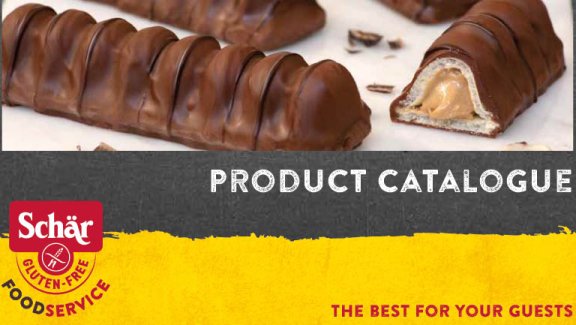 Product catalogue
Catalogue of all gluten-free foods from Dr. Schär Foodservice that are available to your company to meet the needs of coeliacs or gluten-sensitive guests.
Safe preparation of gluten-free dishes
About 10% of the population is affected by gluten sensitivity, of which about 1% is affected by celiac disease – the only treatment option for these pathologies is a strict gluten-free diet.
Secure this growing target group now and stand out from the competition!
Gluten-free preparation
1. use gluten-free products,
especially those that are naturally gluten-free or made from gluten-free ingredients (e.g. products from Schär Foodservice).
2. Store separately
and always keep everything in specially designated, labeled and sealed containers.
3. own preparation areas
use these areas exclusively for the preparation of gluten-free food. If this is not possible: in any case, prepare gluten-free before gluten-containing and clean the workplace.