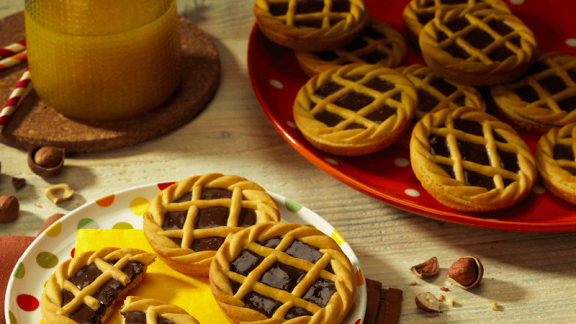 Request now
Crostatina Hazelnut
152g
Crostatina Hazelnut
152g
Traditional Italian pastries filled with indulgent hazelnut and chocolate cream. Individually wrapped to maintain the rich, soft filling that will take you right back to your childhood.
About this product
Ingredients
Hazelnut and cocoa cream 21% (sugar, sunflower oil, hazelnuts 14%, cocoa powder** 10%, skimmed milk powder), maize flour, rice flour, vegetable oils in varying proportion (sunflower oil, coconut oil, cocoa butter**), sugar, eggs*, maltodextrin, buckwheat flour, modified potato starch, milk protein, raising agents: disodium diphosphate, sodium hydrogen carbonate, ammonium hydrogen carbonate; glucose-fructose syrup, egg white*. May contain traces of soya and nuts (almonds)
*Barn eggs. **Rainforest Alliance Certified. Find out more at ra.org.
Product sheet
Nutritional values
Nutritional declaration
100g
---
Energy
1.975 kJ
471 kcal
Fat
2 g
Thereof saturated fatty acids
8,4 g
Carbohydrates
62 g
Thereof sugar
22 g
Dietary fibres
0,6 g
Protein
7,1 g
Salt
1,2 g