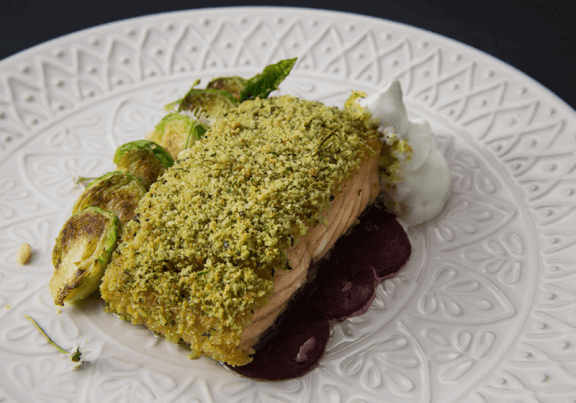 Request now
Products: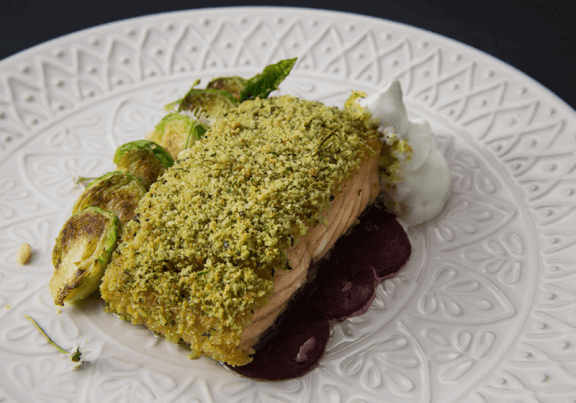 Ingredients
salmon darnes weighing around 160g each
large or two small beetroot
Preparation
For the salmon breading, process the Breadcrumbs, herbs and pine nuts in a blender. Put the mixture into a roomy bowl and rub with your hands, adding a drizzle of oil until the mixture is a sandy consistency. Slice the beetroot very thinly, cut into 2 cm discs using a dough cutter and set aside. Cover the surface of the salmon darnes with the breading and bake at 180°C until the salmon has reached a temperature of 52° at its centre.
In the meantime, clean the Brussels sprouts, halve and blanch in salted boiling water for 2-3 minutes. Drain and cool in iced water. Saute a clove of garlic in some extra virgin olive oil, add the Brussels sprouts and saute over a high heat for about 4 minutes. In the meantime, put the cream in a stand mixer fitted with a whisk and whip until frothy, acidify with a few drops of lemon juice and mix. Dress the beetroot with oil and salt. When the salmon is ready, serve it at the centre of the plate, with 4 beetroot discs on one side and 4 Brussels sprouts on the other. Garnish with a swirl of sour cream, decorated with a grating of lemon zest.
Gluten-free preparation
1. use gluten-free products,
especially those that are naturally gluten-free or made from gluten-free ingredients (e.g. products from Schär Foodservice).
2. Store separately
and always keep everything in specially designated, labeled and sealed containers.
3. own preparation areas
use these areas exclusively for the preparation of gluten-free food. If this is not possible: in any case, prepare gluten-free before gluten-containing and clean the workplace.