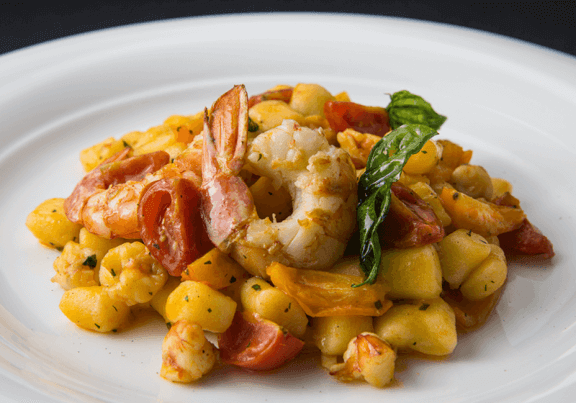 Request now
Products: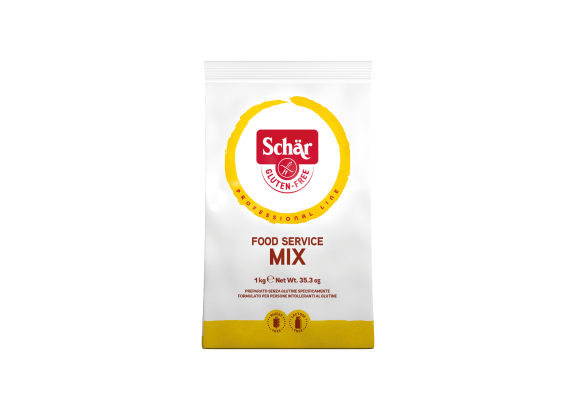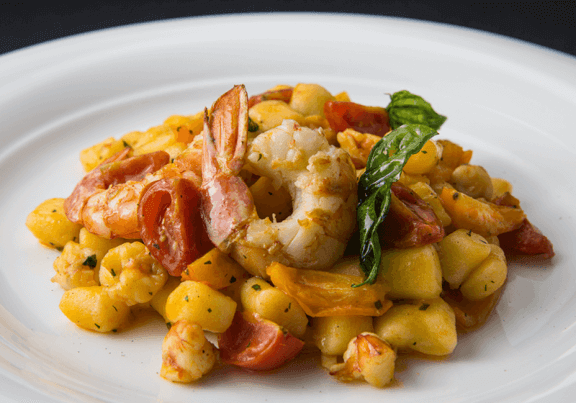 Ingredients
Ingredients for the sauce:
sprig parlsley, finely chopped
Preparation
Method:
Wash the potatoes and put them in a pan of cold water. Boil for around an hour, piercing with skewer to check if they are ready. As soon as they are cooked, drain, peel and mash with a potato masher when they are still piping hot. This procedure is important to avoid what is known as "gel" due to the retrogradation of the starch. Add the Foodservice Mix to the mashed potatoes together with the water and salt. Work the dough for a few minutes until it soft and smooth.
Form long sausages one centimetre in diameter, and cut into pieces one centimetre thick using a knife. Spread the gnocchi over a baking sheet dusted with flour to prevent them from sticking. In the meantime, peel the prawns, removing the shell and the intestines, remove the flesh and cut into cubes. Pour the oil into a non-stick pan and saute a clove of unpeeled garlic and sprig of thyme. Add the prawn flesh and saute over a high heat for around a minute. Discard the garlic and thyme. Season with salt and pepper and set aside. Clean the tomatoes, cut into wedges and saute in a non-stick pan over a high heat with oil and garlic. Season with salt and pepper.
To make the sauce, mix the sauteed tomatoes and prawns. Dilute with a little cooking water if necessary. Put the gnocchi into a large pan of boiling salted water, and when they rise to the surface, continue cooking for around 3 minutes. Drain the gnocchi and mix with the sauce over a medium flame, adding the chopped parsley, a grating of lemon zest and the torn basil leaves. Drizzle with a little oil and mix once more.
Chef's tip:
To intensify the flavour of the potatoes, they can be baked in the oven. Put the potatoes in a bowl lined with a large sheet of greaseproof paper, and season with oil, garlic, thyme and rosemary. Close the packet tightly and bake in a preheated oven at 180°C for around an hour, depending on the size of potatoes used. Proceed as detailed above.
Gluten-free preparation
1. use gluten-free products,
especially those that are naturally gluten-free or made from gluten-free ingredients (e.g. products from Schär Foodservice).
2. Store separately
and always keep everything in specially designated, labeled and sealed containers.
3. own preparation areas
use these areas exclusively for the preparation of gluten-free food. If this is not possible: in any case, prepare gluten-free before gluten-containing and clean the workplace.