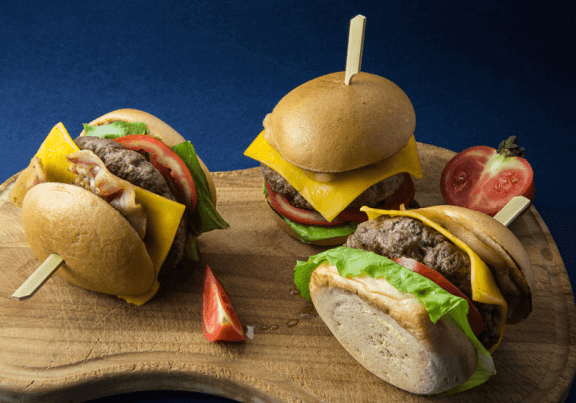 Request now
Products: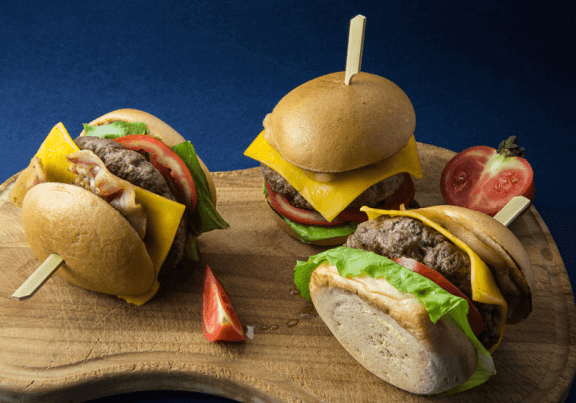 Preparation
In a bowl, mix the ground beef with the garlic powder. Form the mixture into four balls and flatten each one into a hamburger patty to make 4 burgers weighing 150g each. To crisp the bacon, begin with a cold pan and cook for around 3-4 minutes per side over a low-medium flame. When crisp, set aside to drain on kitchen paper. Cut the tomato into approximately 3 mm slices to give at least 8 thin slices. Wash and dry the lettuce. Split the hamburger buns in half horizontally and lightly toast in a pan. Heat a lightly greased grill until very hot and cook the burgers for approximately 3 minutes per side, seasoning with salt at the end. Ensure that the surface of the hamburger is well cauterised, developing the Maillard reaction which gives the meat aroma and flavour. Put the slices of cheddar on top of the hot hamburgers during the final stage of cooking to melt the cheese, this will take around two minutes.
Assembly
Thinly spread the base of the Hamburger Bun with mayonnaise and put a lettuce leaf on top to prevent the base from going soggy. Place the tomato slices on top, followed by the hot hamburgers and cheddar, and the crispy bacon. If desired, spread the underside of the bun top with a thin layer of ketchup. Top the hamburger with the bun top, and pierce with a wooden skewer to hold the ingredients in place. Serve hot.
Gluten-free preparation
1. use gluten-free products,
especially those that are naturally gluten-free or made from gluten-free ingredients (e.g. products from Schär Foodservice).
2. Store separately
and always keep everything in specially designated, labeled and sealed containers.
3. own preparation areas
use these areas exclusively for the preparation of gluten-free food. If this is not possible: in any case, prepare gluten-free before gluten-containing and clean the workplace.